Moneybookers is a leading online payment solution
that gives customers from all over the world the opportunity to make borderless payments. This banking method was introduced back in 2001 and still has its headquarters in UK's capital London. In 2013, Moneybookers completed its rebranding as Skrill under the ownership of Investcorp Technology Partners and acquired another hugely popular payment solution known as Paysafecard.
Seventeen years after its launch, Skrill continues to be a force to be reckoned with. It remains a widely preferred method to send and receive money online in nearly 40 different currencies, with 20 million users and counting. It is favored by casino players who insist on handling their online gambling finances in an anonymous, fast, and secure manner. It allows them to deposit money to their favorite casinos and withdraw their winnings back to the same Moneybookers (Skrill) account.
There is no shortage of online casinos supporting Skrill as a payment option. Some of these operators, like bet365, are the cream of the crop of the interactive gambling industry. Here we shed more light on how this digital wallet works for the purposes of online gambling and what its biggest pros and cons are when used by casino players.
Signing Up for a Moneybookers (Skrill) Account
Skrill is, in essence, a digital wallet where online casino players can store their gambling funds. To use this service, one needs to set up an account with Skrill first. The process is actually quite simple and takes only a couple of minutes to finish.
Registration on the Skrill platform is divided into several steps. The first thing to decide is whether you wish to set up a personal or a business account. Those who intend to use their Skrill e-wallets solely for online gambling are advised to sign up with personal accounts where they can store their gambling funds only.
The next step is filling in the registration form itself where players must provide their first and last name, a valid email address, and the password they want to access their Skrill wallet with. What follows next is topping up your new wallet with some money so that you can begin depositing at your favorite casinos. It is during this process that you choose your country of domicile and your e-wallet's permanent currency. We say permanent because players will be unable to switch their currencies after they set up an account with Skrill.
There are various methods of topping up your Skrill balance but be wise with your choice since some of these entail bigger fees than the rest. We shall elaborate on this further in the article's Fees section. You can use manual bank transfers, credit and debit cards, a prepaid Paysafecard, or even rival e-wallet providers like Neteller.
Bitcoin is also an option and is preferred by many players not only because it is supported across a growing number of online casinos but because it is one of the most cost-effective ways to transfer money to one's Skrill account.
Filling in some personal details is required upon topping up your Skrill wallet for the very first time. The player must fill in their city of residence, permanent address, postal code, date of birth, and mobile number. Those who decide to top up via credit or debit cards will have to provide its number, CVV, and date of expiration to complete the deposit. The payment company works with various card brands including Visa, Mastercard, American Express, Diners Club, and JCB.
Skrill is well-liked by many online high rollers because of the high deposit and withdrawal limits it has at most casinos. However, Skrill users must verify their e-wallet accounts to lift the restrictions on the sums they can send or receive with this method. For the purpose, players must send photos of their card's front and back side.
One's permanent address also needs to be verified, usually by uploading scans of an identity document or a utility bill. The easiest way to initiate verification would be via the Skrill mobile app. You can also take photos of the needed documents using the camera of your smartphone. The photos must be legible and clear enough.
Applying for a Skrill Prepaid Mastercard
Players can also gain instant access to the gambling funds in their e-wallet balance by applying for a Skrill prepaid Mastercard. For the purpose, you must sign into your wallet and navigate to the corresponding tab where you apply for the card but keep in mind your balance should not drop under €10 in order for you to do that. Only verified accounts can apply for plastic prepaid Mastercards. Also, applicants must be residents of a country that is part of the European Economic Area (EEA) to receive such plastic cards.
The card will be sent to your doorstep within a period of 7 to 10 working days. Once you receive your card, you must log into your Skrill wallet to activate it – the cards' PIN code will be automatically generated during the activation process. You can deposit and withdraw to and from the card at no cost but will have €10 deducted from its balance as an annual maintenance fee.
Funding Your Casino Account with Moneybookers (Skrill)
If you do not have an account with Moneybookers, visit its official website and create one. It takes only a few minutes to complete the registration. Players who already hold accounts are required to go to the casino cashier and select Moneybookers as a payment option.
Then, they need to provide their Moneybookers account details, type in the amount they want to deposit and confirm the transaction. The money is being instantly sent to the player's casino balance and they can play their favorite casino games immediately. Most online casino process both deposits and withdrawals with Skrill at no additional cost which renders this e-wallet great for recreational players on a limited budget.
Withdrawing Funds to Moneybookers (Skrill)
Making a withdrawal with Moneybookers is really simple. Players should open the casino cashier, then go to withdrawals and select Moneybookers as a payment option. Once they have done that, they need to type the amount of money they want to withdraw and confirm the transaction.
Depending on the casino's procedures, it takes between 3 and 5 business days for players to receive the money into their Moneybookers balance. Each casino requires some time to evaluate your Skrill withdrawal request but the precise timeframe varies between a couple of hours to 3 business days. The requested amount shall remain pending into your account until the request has been fully evaluated and approved for processing.
Most gambling websites that allow for Skrill transactions offer reverse withdrawals, allowing players to cancel the transfer so that the requested amount gets returned from their pending to their real-money balance. This way if you run out of money but want to gamble some more, you will not have to initiate another Skrill deposit. You will have your requested withdrawal amount returned to your balance to play with. However, we would like to emphasize this option is handy only when players are able to exercise control over their gambling.
Some casinos that support Skrill payments have adopted the so-called manual flushing practice which is to say you cannot cancel withdrawals and have the pending amount returned to your balance after sending the withdrawal request. This is the better option for Skrill users who do not trust themselves as it prevents them from splurging and returning all their profits to the house's coffers.
What Are the Fees Players Should Consider?
As was mentioned earlier, very few casinos would charge their customers for Skrill deposits and withdrawals. In fact, Skrill itself will not charge players for using its platform to top up or withdraw from their casino accounts. That being said, the service is not entirely stripped of charges. When topping up their Moneybookers (Skrill) balance, players need to consider some additional fees they may incur in the process. It all depends on which method you use to load the funds into your e-wallet.
uploading funds via bank transfers is free of charge
uploading funds from credit/debit cards costs 1.9% of the deposited amount for Visa and 2.25% for Mastercard, American Express, Diners Club International, and JCB
topping up your Skrill balance via Paysafecard will cost the eye-watering 7.50% of the deposit
the processing fees for Bitcoin, Boku and Neteller transfers into your Skrill account are 1.00%, 1.95% and 3.00% of the transferred sum, respectively
withdrawing from your Skrill balance to your Visa costs 7.50% of the withdrawn sum while bank transfers are charged with a flat rate of $6.22
ATM withdrawals from your Skrill prepaid Mastercard come with a flat fee of 1.75%
payments that undergo currency conversion will incur extra charges of 3.99%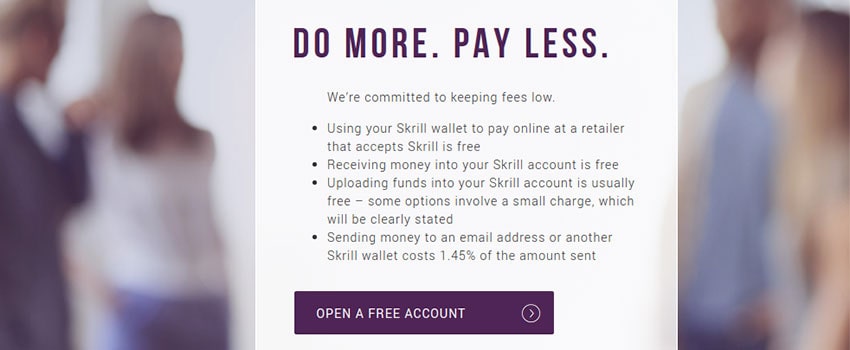 Currencies
One of the biggest positives of using Moneybookers (Skrill) has to do with the massive range of currencies it processes payments in. This is great for casino players as it enables them to avoid the 3.99% currency conversion fee we mentioned above. We advise you to set up your wallet in the same currency as the one you use at your favorite online casino, the reason being you will not be able to change it after you have already registered for the Skrill service.
A great variety of currencies are supported by Moneybookers (Skrill), including United Arab Emirates Dirham, Bahraini Dinar, Swiss Franc, Colombian Peso, Czech Koruna, Danish Krone, British Pound, Hong Kong Dollar, Croatian Kuna, Hungarian Forint, Malaysian Ringgit, Israeli Shekel, New Zealand Dollar, Indian Rupee, Iceland Krona, Jordanian Dinar, Japanese Yen, Australian Dollar, South-Korean Won, Kuwaiti Dinar, Bulgarian Lev, Moroccan Dirham, Omani Rial, Polish Zloty, Qatari Rial, Romanian Leu, Serbian Dinar, Saudi Riyal, Swedish Krona, Euro, Singapore Dollar, Canadian Dollar, Thailand Baht, Norwegian Krone, Tunisian Dinar, Turkish Lira, Taiwan Dollar, US Dollar, and South African Rand.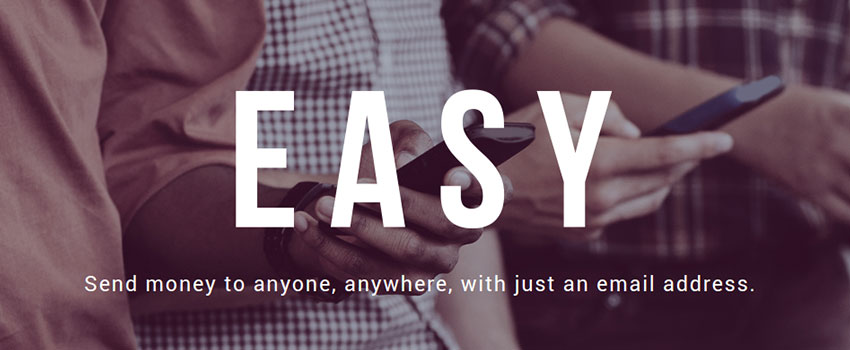 Security
Apart from the comfort offered when making money transactions to and from players' casino accounts, Moneybookers offers safe money transfers in order to guarantee its users' maximum satisfaction. All requirements of the Payment Card Industry Data Security Standards (PCI DSS) are covered by this payment method platform.
Online casino players, who choose to use Moneybookers when transferring money to their accounts, should be aware of the fact that the data uploaded on the payment platform is encrypted, which makes it unreadable for third parties. There are also some security specialists who are available 24/7 to take care of users' safety.
Skrill is committed to preventing money laundering and achieves this with a sophisticated verification system that requires casino players and other customers to confirm their real identities by sending photos or scans of documents for identity and address verification. Apart from this, records of all transactions to and from your account are kept by the payment company.
The latter is also under legal obligation to inform the respective authorities whenever any suspicious transfers take place on its platform. Upon detecting suspicious activities related to players' accounts, Skrill will immediately inform them or even temporarily suspend said accounts when push comes to shove.
In the context of online gambling, Skrill enables players to deposit completely anonymously without disclosing any banking information regarding credit/debit card numbers, bank account numbers and so on. Skrill also offers players the option to use the so-called 2-factor authentication which further protects them from frauds. This is practically a combination of a player's password and their phone number or security key. If a fraudster has managed to obtain the player's password, they still will be unable to log into their e-wallet without also entering the phone number or said security key, which makes it all the more difficult to scam.
Moneybookers (Skrill) on Mobile
More and more casino players ditch their laptops and desktop computers for a mobile device they can use to gamble as they go. Mobile casinos are all the rage right now not to mention software suppliers are in the habit of optimizing their latest releases for smartphones and tablets. Skill caters towards mobile casino players as well, enabling them to make payments to and from their balance via most iOS and Android-based devices.
You can make a Skrill deposit or withdrawal by logging into your casino account on the go and initiating the payment directly via the operator's cashier. However, downloading a dedicated Skrill app is also a viable possibility and one that we would gladly recommend.
Both apps are available for a free download either on Google Play or on the App Store. One of the key benefits of installing an app is that it sends you notifications each time a money transfer is made to or from your account. You can check your e-wallet's available balance at all times which on its own enables you to keep a better track of your gambling money.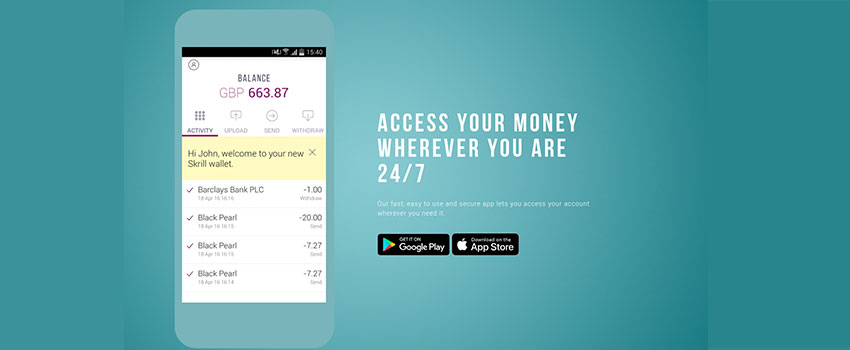 What Casino Games Can One Play with Moneybookers?
Slots – classic slots, video slots, 3D slots, and slots with progressive jackpots
Video Poker – Jacks or Better, Tens or Better, Deuces Wild, Aces and Faces, Joker Poker, Aces and Eights, Double Double Bonus Poker, All American Poker, Deuces and Jokers, 2 Ways Royal, and more
Roulette – French Roulette, American Roulette, European Roulette, Progressive Roulette, Live Roulette
Blackjack – Double Exposure, European Blackjack, Pontoon, Duel Blackjack, Perfect Pairs, Blackjack Switch, Spanish 21, Blackjack Surrender, and Live Blackjack
More table games – Craps, Baccarat, Casino Hold'em, Caribbean Poker, Sic Bo, War, Hi-Lo and more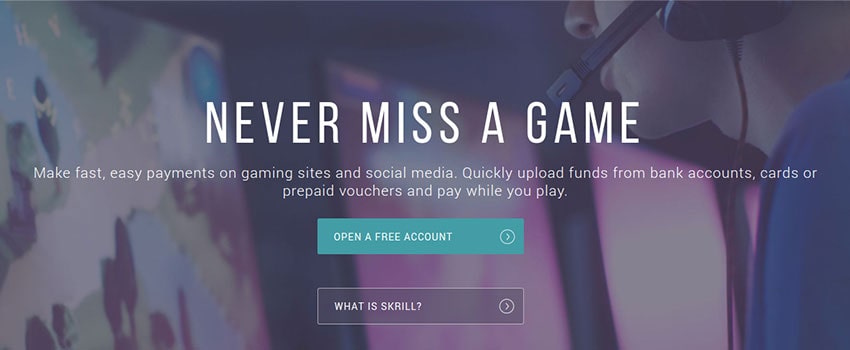 Advantages of Moneybookers (Skrill)
Secure transactions and private information protection
Fast deposit and withdrawals on casino or poker sites
Easy navigation
Nice bonus offers (when available for Skrill depositors)
Wide availability across different gambling sites
Moneybookers has a lot of benefits, which is why it is one of the most preferred payment methods in online casinos. It offers secure transactions and private information protection. Players can retain their full anonymity when making gambling-related money transfers via Skrill and are spared from having to share any banking details when funding their accounts. The transactions are initiated by using one's email address and Skrill password only.
This is what makes this method a great alternative for casino players who do not own any cards or simply prefer not to use theirs for online gambling purposes. Skrill also helps you keep a better track of your gambling bankroll. Players interested in this method can set up e-wallets specifically for storing their gambling budget in so they can keep it separate from other funds. From this, it follows that Skrill also helps one enforce a better money management to a certain extent.
In addition, players get fast deposits and withdrawals at casino and poker websites, an interface that is easy to use, and last but not least, nice bonus offers. All renowned online casinos have made sure to add Skrill to their cashiers, so if you already are familiar with this banking solution, you will be able to find an operator to gamble with in the blink of an eye. Not only are Skrill deposits instantaneous but withdrawals with the method are among the quickest.
Of course, withdrawal timeframes with Skrill might vary between gambling operators but the payments are usually completed shortly after the request has been approved. You will rarely have to wait for more than 5 working days until the money ends up in your Skrill balance.
Disadvantages of Moneybookers (Skrill)
The disadvantages of using Skrill as a casino banking method pale in comparison to the numerous positives this solution has to offer. In fact, only four drawbacks come to mind, the first one being the fees associated with topping up the balance of your Skrill e-wallet. Some of these fees are rather fat, especially if one initiates the transfer via prepaid methods like Paysafecard where players will have to pay 7.50% on top of their desired deposited amount. Some may argue there is the option to boost your e-wallet's balance at no extra cost via a regular bank transfer. And sure – this is an option as long as you have nothing against waiting up to 5 business days until the money hits your Skrill balance.
Registration with Skrill may be a hassle-free process but not all casino players are willing to go through all the verifications required to lift the transaction limits of their accounts. Some will undoubtedly decide to use other supported casino banking methods where such procedures are not needed.
Another downside has to do with US players. They will not be able to use this platform for conducting online gambling transactions, even if the method is supported by a US-friendly casino (which it rarely is). The same goes for gambling fans from Brazil – as of the beginning of 2018, Skrill (along with rival e-wallet Neteller) notified users from the country it no longer will support their payments to foreign-based gambling websites.
While it is true Skrill depositors are by and large treated to appetizing bonuses, this is by no means valid at all online casinos accepting the method. Some of the most respected gambling operators may not allow you to redeem a welcome bonus should your first deposit be processed with the popular e-wallet. This is a major bummer if you are looking to test an online casino as a first-time depositor and Skrill is your only alternative to fund your new account.