Neosurf was launched more than a decade ago in 2004. The company started out by offering prepaid cards and then moved on to vouchers. Now, it is a widespread payment method available to anyone, anywhere. You can find this banking option at a ton of online casinos.
Right now, the company offers more than vouchers – you can set up a myNeosurf account which functions as an e-wallet and more. You can also buy a Neocash card which is powered by Mastercard and so, can be used all over the world for anything.
Neosurf offers more than product variety and has, in fact, reached out to make it possible for anyone in any part of the world to become a Neosurf Authorized Reseller. That is thanks to the fact that Neosurf is registered by the Financial Conduct Authority, under the Electronic Money Regulations 2011 as an e-money agent of Contis Financial Services Ltd. It is also authorized by the UK Financial Conduct Authority as an Authorised Electronic Money Institution and has the right to provide services across the European Economic Area.
Registration
To purchase a Neosurf voucher you do not need to register anywhere. You do not even need to have a bank account. All you need is the cash you want to use online and a location that sells Neosurf cash vouchers. That may include supermarkets, convenience stores, gas stations, kiosks and more.
If you decide to create an account so you can monitor the funds in your voucher, you can do so quite easily. You are required to give only your email address, your name and your birthday. Then, once you have filled in your information, you will receive an email with a link to complete your registration.
Afterward, you will need to provide additional information like your address and phone number. You will be able to go through the terms and conditions of the service, and after you have done so and confirmed that you agree, you will have completed your registration.
Neosurf Products
Neosurf is more than just a cash voucher provider – it offers enough products to keep any player happy. Once you have created a myNeosurf account, you will have a ton of options available. This includes not only gaining access to your current Neosurf cash voucher balance, but also the ability to get a Mastercard, create new vouchers, gift cards, and much more.
Neosurf Cash Voucher
As we mentioned, the Neosurf voucher is extremely easy to obtain. You can use it in over 20,000 locations both online and in the physical world, all around the globe. You can even find it at the cashier page of almost every online casino.
To purchase a Neosurf cash voucher you need to first find someone who sells it. You can do that on the website of Neosurf simply by going to the 'Where to find Neosurf?' section. Then, all you need to do is enter your coordinates and the website will show you the nearest Neosurf point of sale.
Then, you can go to that location and purchase a Neosurf cash voucher of your desired denomination. It can usually be between $5 and $250 or the equivalent in any currency. After you have paid, you will receive a receipt with your voucher's code. This is the code that will enable you to make payments online.
You do not need to provide your ID or register, you can use this payment method completely anonymously, which is one of the things that make it so secure. Usually, any payment method you can find at an online casino requires some form of personal or banking information to be disclosed. That is exactly why Neosurf stands out.
MyNeosurf
The myNeosurf account allows users to have more control over their Neosurf funds. Currently, there are over 350,000 users of this service. The registration is completely free and you can connect all of your Neosurf vouchers and keep an eye on their balance at all times. You can also deposit into your myNeosurf account.
You can fund your account with Neosurf vouchers, of course, but also with your credit or debit card, and your bank account. There are no fees except for Neosurf vouchers – when you fund your myNeosurf account with this method, you will have to pay a fee of 4.5%.
The thing that makes myNeosurf better than using only vouchers is that you can withdraw to your account. The vouchers do not enable you to do so. If you deposit in a casino using your Neosurf voucher, your withdrawal will most likely be through a bank transfer.
This account allows you to view your transaction history, exchange currencies, and send funds to others, although the last one is still in development. In any case, opening an account gives you more opportunities and more control over your funds.
Additionally, users of this Neosurf feature can create virtual cards, Amazon gift vouchers, and create new vouchers from the balance that is already in their account. Players will also be able to change the currency of a voucher and use their Neocash Mastercard to pay at a store in the physical world.
Neocash Card
Neosurf also offers a Mastercard – the Neocash card. The card comes at the cost of $14,90. You do not need a bank account for it, only a myNeosurf account. You can use this card just like any other Mastercard, so if a casino offers this banking option for both deposits and withdrawals, you'll be all set.
You can withdraw funds from your Neocash card at any time from any ATM. There is a 2% withdrawal fee, though, so keep that in mind. Otherwise, this is a great option for online casino players.
When funds are received on the Neocash Mastercard, they become immediately visible in your myNeosurf account. From that point on they may be withdrawn or used in any of the ways listed above.
Deposit Limits
Depending on players' activity and information on their Neosurf accounts, there are different deposit limits set. When a player first creates a myNeosurf account, it is considered a Light Account. This means that players who have not verified their identity fall into this category. The deposit limits for this level are $100 by credit/debit card for the period of 30 days. Vouchers and bank transfers have a limit of $250 for the same period of time.
Getting a Basic Account requires a phone number, address, and email verification. This will get your deposit limits up to $250 for credit and debit card deposits, $1,000 for vouchers but you will be able to deposit $500 at once, the bank transfer maximum is up to $3,000, however, you will be able to transfer up to $1,000 at once and per day.
You can get a Basic Plus Account by making your first deposit via bank transfer. That way, your credit/debit card limits increase and become $500.
A Premium Account requires the approval of your ID documents and proof of address. This way you will be able to deposit $1,000 per transaction and per day by credit/debit card and by voucher. The monthly limit is $3,000. For bank transfers, the daily and single transaction limit is $3,000 while the monthly limit has been upgraded to $10,000.
From that point on start the VIP accounts and first up is Bronze. The limits for a credit/debit card deposit are increased to $2,000 per day, $5,000 per month, and $1,500 per single transaction. Those also apply to voucher deposits, except that you can only deposit $1,000 per single transaction with them. The bank transfer limits remain the same. To reach this level, you need to have deposited at least once in the previous month.
To get a VIP Silver Account you need to have completed at least one deposit per month for 3 months, either consecutive or not. The limits are then increased to $3,000 per day, $10,000 per week, $1,500 per single transaction for credit/debit cards. These are true for vouchers as well, except that the single transaction deposit limit remains at $1,000. Bank transfer limits are as follows: $5,000 per day, $15,000 per month, and $5,000 per single transaction.
And finally, the VIP Gold Account. For it, you need to have deposited at least once per month for 6 months. For credit and debit cards the limits rise up to $5,000 per day, $20,000 per month, $1,500 per single transaction. For vouchers, the 24-hour limit is $10,000, and the single transaction limit is $1,000. As for bank transfers, the limits are $10,000 per day, $30,000 per month and $10,000 per single transaction.
Fees
While there is no monthly fee for a Neosurf voucher, after a year has passed, or you have not used your Neosurf voucher in 6 months, you will have to pay a fee of $2 or the equivalent in your currency of choice. There is also a currency exchange fee of 2% or 3% for the currency ZLOTY.
Additionally, if you request a copy of the personal information you have provided that is currently being used by Neosurf, you will have to pay a fee of $10. You will have to confirm additional information in order to receive the data the company has on you as well.
As we already said, there is a withdrawal fee when using the Neocash card to do so, however, there is one for bank withdrawals as well – it is 1,5%. Also, in the case of a refund, a management fee of 6% is applied.
Funding Casino Account with Neosurf
Neosurf offers a few options for depositing at an online casino, however, the company's vouchers still remain its most widely used product. You can often find casinos that accept this deposit method, but if yours does not, then you might want to consider using the Neocash card as it is accepted virtually everywhere.
Other than that, funding your casino account with Neosurf is relatively simple. You simply need to select the sum you wish to deposit and then enter the code of your voucher. If you are using the card, then, once again, select the correct sum and then enter the card's details.
To pay with your myNeosurf account, you need to first visit the 'USE' page on the website. There, you will find your Personal payment code. All you need to do is enter that code after you have selected Neosurf as your payment method.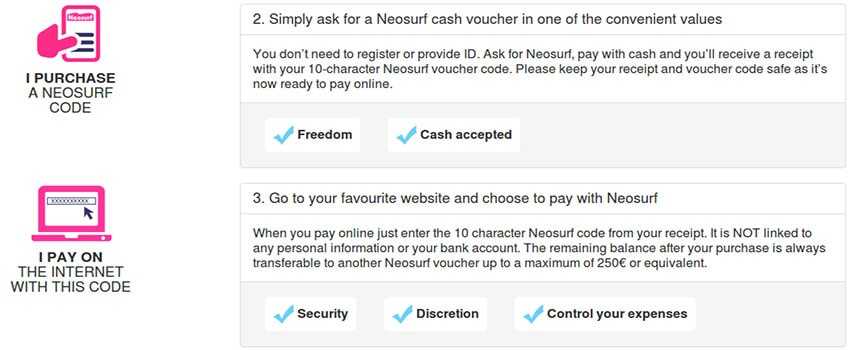 Withdrawing Funds with Neosurf
Withdrawals are only possible if you use your Neocash card to deposit first because, as we already mentioned, if you use a Neosurf voucher to deposit, you will most likely need to withdraw your winnings directly to your bank account. That is the only way you can currently withdraw funds with Neosurf's products, once you have already deposited with their voucher.
If you use Neocash to deposit, it is worth keeping in mind that Mastercard is not always available for withdrawals at online casinos. This is because of Mastercard's strict policies when it comes to online gambling. However, if this is a possibility for players, they will be able to withdraw their funds through an ATM or keep them in their myNeosurf account and use them online or choose to withdraw them through one of the aforementioned ways.
Advantages of Neosurf
Choosing Neosurf means not only choosing a voucher, but also an e-wallet and a Mastercard. Neosurf lets its users choose which method is best suited for them. This is a great advantage for any player, especially when you can get all you need from the same company.
The most valued feature of any Neosurf product, though, is its cash vouchers' anonymity. Players can simply purchase a Neosurf cash voucher without disclosing any personal or banking details. This means that their details cannot be stolen or misused by anyone because they would not be available, to begin with.
The quick registration process is also a positive when it comes to online banking methods. You only need to send copies of documents if the cumulative amount of your claims has exceeded $1,000. There will be limitations on how much you can deposit and withdraw with your myNeosurf account if you do not verify your identity.
Disadvantages of Neosurf
Of course, the biggest disadvantage is one we have already listed, and it is that you cannot withdraw your online casino winnings using a Neosurf cash voucher. Unfortunately, despite the fact that Neosurf offers a debit card, Mastercard is not a widespread withdrawal method.
Additionally, the company has been widely criticized online and has not responded to any of the comments left by users on multiple websites. Naturally, the majority of issues these users are reporting turned out to be false, however, one thing is true for sure and it is that Neosurf's support does not seem to be responding.
Another disadvantage is the fact that Neosurf is available globally now but only in theory. Unfortunately, there simply aren't enough points of sale over the world yet. The reason for this is clear – Neosurf used to be available only in France, Switzerland, Spain, Italy, Andorra, and Belgium. Those are the regions with the highest concentration of Neosurf points of sale.
For some players, another thing that may be regarded as a problem is the fact that to buy a Neosurf cash voucher, they need to leave the comfort of their home and go to the nearest point of sale. Of course, that may happen to be just around the corner, but it may also be in another city.
Security
When it comes to security and data safety, Neosurf is definitely an option worth players' consideration because if they were to use the cash vouchers by this company, they would remain completely anonymous. That level of security cannot really be rivaled because, naturally, data that does not exist cannot be stolen.
However, even the other products by Neosurf are highly secure. SSL encrypted and with 2-step authentication by the 3D secure protocols of both Mastercard and Visa. This means that all transactions and user data are protected with the latest security measures.
Neosurf on Mobile
Neosurf also has applications for Android and Apple which give users access to all the features of the website wherever they are. There is a special section for promotions where players can keep up to date on the latest ones. However, the Neosurf apps are available only in the UK, Spain, and France.
Players who cannot make use of the app can still use the website on mobile as it is highly adaptive and can be used through any browser and any device, both in portrait and landscape mode. The site loads quickly and runs smoothly as it is not too heavy for a mobile device to handle. This is thanks to the clean design Neosurf has chosen, and it pays off.
Neosurf and Online Casinos
Something that we would like to point out about this payment method is that it is unlike most in one certain way – it was made with the intention of being used for online gambling, or at least, was fully adapted for such a use. This becomes obvious the second the website loads, and the logos of Poker Stars, BetClic, and NetBet appear once you scroll down a bit.
Even the video short, that serves as a presentation of the product, features betting chips, dice, and spades. In the promotions section of the apps, there are different casino bonuses listed. Overall, Neosurf is a nearly perfect payment method for online casinos.