The eCheck payment system is a deposit method at online casinos that is most notable for its ease of use. It is considered to be a reliable and secure payment option that is like a paper check but better.
Electronic checks present players with more features than their paper counterparts
. This is exactly the reason why people use them not only in online casinos but also for paying bills, as a payment option suitable for different e-commerce transactions, etc.
As a matter of fact, using eChecks is basically the same as writing a regular check. The only difference is that the payments carried out with an eCheck are much faster. They are also far more secure, equipped with encryption, cryptography, duplicate detection, and others, unlike a piece of paper. Electronic checks are actually more cost-efficient as well.
An eCheck is directly linked to your bank account, so when you are depositing funds at your favorite online casino with this method, you are taking money right out of your bank account. Of course, this is an option offered by more than a few brands, PayPal being one of them, so there are a lot of things to consider.
There are plenty of advantages and disadvantages to weigh, along with complexities and details involved when deciding which payment method to choose. Electronic checks are no different and have a ton of features that must be considered. Here, we will go over them.
How to Use EChecks
There are four stages involved when using eChecks to make payments online: authorization, entering information, processing, and confirmation. You first need to authorize the payment, either electronically, over the phone, or in writing. Of course, authorizing a payment online is the simplest way to go and one of the reasons why eChecks are so convenient to use.
Then, you will need to provide the following information – bank routing number, bank account number, and the name that is associated with your bank account. Depending on the payment gateway, you may need to enter these details only once or every time you use an eCheck.
Usually, the ACH, or Automated Clearing House network, is used for processing of eCheck transactions. This is the stage that is actually crucial as the ACH processes the transactions between the player's bank account and the casino. Then, finally, the player will receive confirmation of the payment and it will become visible in their bank statement.
If you do not receive a confirmation and cannot see the payment in your bank statement, you need to contact your bank or your payment gateway's customer service, as well as the casino's. If there has been an error or your check has bounced, it may take quite a while to resolve the issue and you may end up unable to play for that period.
Players need to always make sure that there are enough funds in their account before issuing an eCheck. They also need to be aware of all applicable fees that may arise. This is why we recommend thoroughly reading through your online casino's banking policy or taking a look at our reviews where that information is easily accessible.
How Do EChecks Work?
Electronic checks work the same way paper checks do but instead of all the manual steps involved in using a paper check, eChecks accomplish the same things electronically and, in fact, can do a lot more than paper checks. The transactions made using eChecks are made possible with the help of UCC, REG CC, FSML, or, more simply put, codes, acts, and regulations. Every eCheck contains encrypted information which is transferred from one network to another. And so, the funds move from the payer's account to the payee's.
Additionally, this payment method has a ton of security protocols in place because paper checks had their own security measures in place and instead of leaving them in the past, eCheck made them its foundation. Thanks to that, it can now be considered a fairly impressive online casino banking option.
Advantages of EChecks
The advantages of using eChecks start with the fact that the price per one is fixed. They usually range between $0.25 and $1.50, which is great because when you have a percentage instead of a fixed price, you can end up paying a lot more than you were planning. Paying a dollar for depositing a large sum almost instantly is nothing.
They are cost-efficient in more than one way, though. Not only do they save players a solid amount of money, but also everyone else involved in the processing of the check. Paper checks take a lot more – financially and effort-wise. All that amounts to annual expenses of about $40 billion. Additionally, paper checks have a higher cost per check – their cost can range from $0.50 to over $20, according to estimates made by Bank of America.
All those pointless expenses can be avoided when all the information required is encoded in a single message. Of course, eChecks still do not come for free but they most certainly cut expenses. Additionally, having all the information required electronically removes all room for error. If the information is missing or incorrect the eCheck simply will not go through.
ECheck's greatest advantage over regular checks is speed. The whole process of writing a check online is extremely simple and quick, and most importantly, the second you are finished with it you have your funds already waiting for you in your online casino account.
Another great advantage of eChecks is their security. Of course, if your computer has a virus or your screen is being mirrored that security does not matter one bit. However, if you have taken all necessary precautions, it is close to impossible for anyone to mess with your eCheck.
And last but definitely not least, since eCheck is directly linked to your bank account you can deposit as much as you want. There are no limits and the price remains the same. This definitely beats paper checks. Only the casino you choose can decide to set a limit. If you are a high-roller, looking for a better banking method, you might want to give this one a try.
Disadvantages of EChecks
As we just mentioned, if your computer is compromised and has a virus or you have been click-baited to a phishing website, all your banking details will be stolen. However, that is true for many other payment methods as well. There is no completely impenetrable security system, that is why you have to take all necessary precautions.
Another disadvantage comes as a bit of a contradiction to one of our earlier positive points – speed. Unfortunately, the speed of an eCheck depends largely on the payment gateway. Because of that, it can sometimes take up to 7 days to process. That is still less time than a paper check deposit takes but compared to other payment methods, it is lacking. If you are looking for a quick way to fund your online casino account, this banking option probably will not end up being one of your favorites.
Additionally, we cannot guarantee that you will be able to use this payment method at your favorite casino. It is not rare, per se, but it is not the most popular banking option when it comes to online gambling either. However, if you are determined to use this payment method, then rest assured that you will be able to find the right casino.
What are the fees players should consider?
Players should always bear in mind that there are certain processing costs. However, the best part is that these fees are considerably smaller than the fees charged for some other payment methods. As we already mentioned, the cost per eCheck is fixed and is usually between $0.25 and $1.50.
Of course, players also need to take into consideration the fact that there may be other fees involved when depositing into an online casino account. If you cannot find information about whether the casino charges players with any additional fees, you can always contact its customer support team.
Another thing to keep in mind when using this payment method is that, since it is so much like a paper check, it can bounce. If you have decided to make a casino deposit with this method and your eCheck transfer fails you will most likely have to pay a fee of around $30.
Naturally, there are also fees the sum of which depends on the payment processing gateway a player has chosen. There are annual, monthly, and weekly fees that players need to acquaint themselves with before settling for a given payment gateway.
Account
To use this service you need to have a checking account. This does not always mean that you need to open a new special bank account – some bank accounts also function as checking accounts. However, even if that is the case, you will still need to check with your bank to make sure it supports eChecks.
If it does not, you will need to pick a different payment processing gateway, like PayPal, Deluxe or PaySimple. When you have, you will most likely need to create an account and then link it with your bank account. From that point on you will be all set.
If your bank account authorizes eCheck payments, then all you will need to do once you have registered at an online casino is fill out the form. If you are using an alternative payment gateway, this process may differ. For instance, if you use PayPal for this purpose, you will most likely need to log into your account and make the payment from there, inserting the details that the casino has provided you with.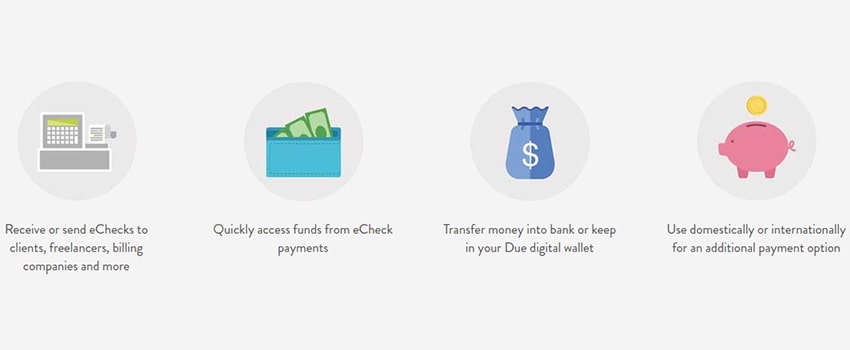 Funding Casino Account with ECheck
In order to learn how to deposit money by using eCheck, players need to first understand what eCheck is. The payment method is like paper checks, but electronic. So, instead of writing a paper check, the user is provided with the opportunity to authorize a monetary transaction for the deduction of a certain amount of funds from their bank account online.
So, making a deposit at an online casino by using eChecks is exactly the same as using a paper check at a retailer shop. When the player is ready to deposit some money into an online casino account, they are required to go to the casino's cashier and choose the eCheck payment option. Then they need to fill in their details and they will be all set.
As we already mentioned the processing time depends on both your payment gateway and the casino. The time it usually takes is 3 to 5 business days, though, once again, it may take longer in some cases.
Withdrawing Funds With ECheck
The withdrawal process when using eChecks is relatively simple. As mentioned above, deposits are processed relatively quickly, and withdrawals aren't too far behind either. There are a few things players should pay attention to when withdrawing money by using eChecks.
In order to make a withdrawal with eChecks, players need to have finalized their identity verification process. Then, and only then, will they be allowed to withdraw money from their online casino accounts through an eCheck. Another thing to consider is that finding a casino that offers eCheck withdrawals is not exactly easy.
As already pointed out, eCheck withdrawals are usually processed incredibly quickly, which means between 3 and 5 days. This is actually faster than a lot of other payment methods and makes eChecks a desirable withdrawal option.
Security
Currently, eChecks are ranked among the most secure payment methods used in online casinos. They are designed in a way to utilize several techniques, including authentication, digital signatures, encryption, duplicate detection, public key cryptography, and certificate authorities. These security measures come to prove that users can be absolutely sure their personal and banking details will be kept safe and will not be involuntarily revealed to any third parties.
Since eChecks were simply the logical next step for paper checks, they built upon the foundations. All security measures, business models, everything good and efficient about paper checks is present in eChecks, along with some more. Electronic checks have removed almost every manual step involved in these types of transactions, therefore almost eliminating the chance of human error.
Still, players should keep in mind that they are entering their exact banking details online which means that there is still a chance for something to go wrong. Online casino websites are highly secure nowadays, however, the encryption of your data occurs after you have entered it and not while you are entering it. This means that if you have a virus on your device you are vulnerable.
Of course, all reputable online casinos at the moment employ 128-bit SSL encryption or 256-bit SSL encryption. This, combined with the security protocols and high-level encryption of eChecks, means that your banking details will be safe once you have completed the authorization stage.
ECheck on Mobile
A large number of the payment gateways for eChecks actually have mobile apps as well. This way you can make an eCheck payment anywhere, anytime. Of course, when it comes to depositing at an online casino, it may get a bit tedious depending on the process. For instance, if the process involves you going back and forth between the casino and the app of the payment gateway you have chosen, that might get frustrating.
If you are simply using your checking account, then the process should be much simpler. You would still only need to enter the information required by the eCheck form. The process should be basically the same both on desktop and on mobile. If something seems strange do not hesitate to double-check if you are in the right place.
Conclusion
The advantages of using eCheck are definitely overwhelming, however, players must carefully consider whether they are in a safe enough environment. Providing your banking details online is never without risk, but incidents can be avoided by using a good payment processing gateway which can additionally protect your data and scanning your device for viruses every once in a while.
Overall, this banking option's positives outweigh the negatives. The only problem is that there aren't that many casinos supporting it at the moment. Hopefully, that will soon change, though if you are looking for one right now, you can take a look at our list of recommended casinos.