EcoCard is the old name of what is now known as ecoPayz. At the moment, it is a card provided by ecoPayz which is a system for transferring and receiving money online. The solution is
developed by PSI-Pay Ltd which is authorized and regulated by the Financial Services Authority (FSA) of the United Kingdom
.
By registering, an ecoAccount is created and the customers are able to fund it through several payment methods: credit/debit cards and bank transfers in over 30 countries. This service has made it easier for people across Europe and South America to deposit funds into their casino accounts without being required to disclose sensitive information such as credit card numbers and CVV2 codes.
Additionally, ecoPayz now offers ecoCard, ecoVirtualcard, ecoPayz Business Account, and an ecoPayz Merchant Account. The ecoAccount users create is basically an e-wallet that is easy to manage and use. It is perfect for depositing at an online casino.
Account
The sign-up process of ecoPayz is extremely easy. The players are required to register an account by clicking on the sign-up icon on top of the page. Only basic personal information is required for finalizing the sign-up process – the customer's name, address, and phone number. Users need to create a username and a password in order to be able to log in the website.
They also need to choose the currency that is to be used. There are some other options that players may choose from but more importantly, after completing their registration they will need to deposit funds into their ecoAccount.
EcoAccount
When players first create an ecoAccount their level is Classic. This means that players will only be able to deposit funds into their ecoAccount, send and receive money through Western Union, and make or receive transfers from ecoPayz merchants.
All that is required to become a Silver level user is for a player to confirm their identity and address with copies of documents. Only then will they be able to withdraw funds to their bank account, or make transactions between ecoAccounts. The ecoAccount, which serves as an e-wallet, has the highest deposit and withdrawal limits of all ecoPayz services.
EcoCard
The prepaid card by ecoPayz can be issued only to users who are Silver level or higher. There may be a card issuing fee depending on your country of residence but it is free almost everywhere. EcoCard gives players the opportunity to deposit and withdraw online casino funds.
It is available in three currencies and users may have 3 cards for each currency – USD, GBP, and EUR. Since this is a Mastercard card, players who decide to get one will be able to spend both online and anywhere else in the world.
EcoVirtualcard
This virtual card is also issued to users that are level Silver or higher. The fee they need to pay for it is $2.30. It is directly linked to the ecoAccount of the users and its initial load can never be exceeded. It expires in 12 months but can also be canceled at any time, completely free of charge. This is a great way to fund your online casino account because it offers free transaction processing and other low-cost financial options.
Advantages of EcoPayz
The biggest advantage of using ecoPayz is that players are provided with the opportunity to have an account that allows them to make instant and secure online payments. This basically means that money transfers are being processed immediately after the transaction has been authorized by the player.
The versatility offered by ecoPayz is rather impressive since it can be used for a variety of payments processed online. Online casino players can rely on the method, which involves payment via credit cards to online accounts and also makes use of smaller-scale systems such as bank wire transfers where the money is sent from the player's bank account to the balance of their ecoAccount.
Another great benefit of choosing ecoPayz is the unbelievable variety of currencies available. Players who decide to create an ecoAccount can choose from these currencies – GBP, ARS, AUD, BAM, BRL, EUR, CLP, COP, CNY, CRC, CZK, DKK, GEL, HKD, HUF, USD, IDR, ILS, INR, ISK, JPY, MDL, MOP, MYR, MXN, NIO, NOK, NZD, PAB, PEN, PLN, RON, RSD, RUB, SEK, SGD, BGN, THB, TRY, VEF, CHF, UAH, CAD, UYU, UZS and ZAR.
If you already have an ecoAccount, topping off your online casino balance will be a piece of cake. Not only that, but it will also be more secure than it would be with many other payment methods. It is instant and so players will immediately have their funds readily available.
Players can also use their ecoCard to deposit at their online casino. Since this is a Mastercard card, transactions made with it are instant. Additionally, players can use their ecoVirtualcard too. This way, ecoPayz has given its users a ton of options which is great because Mastercard is a deposit option at almost every online casino nowadays.
Disadvantages of EcoPayz
Paying with your ecoAccount is easy but finding a casino that accepts this deposit method may be a bit harder. In that case, you can try using the brand's Mastercard products – ecoCard and ecoVirtualcard.
EcoCard is available only to users of the services of ecoPayz that are level Silver or higher. This means that you need to register, wait for a confirmation, then send proof of identity and address for authentication. You will be able to request an ecoCard only afterward and receiving the actual physical card is supposed to take a few days but may also take up to a month. This is an additional wait, thus an additional drawback.
Additionally, players may struggle to find this payment method as a withdrawal option at an online casino. Mastercard is overall used mainly for depositing at gambling websites because of legal boundaries. However, even if online casinos that offer Mastercard as a withdrawal option are a little harder to find, that does not mean that they do not exist.
Aside from the fees applicable when using ecoCard, you may also need to pay fees from other financial institutions. Depending on your country of residence you may also need to pay a fee for the issuance of the card.
Unlike an ecoAccount, players will not have the same variety of currency options. As we already mentioned, there are only 3 available currencies. This means that if you usually play in another currency, for example, AUD, you will need to pay the currency conversion fee every time.
What are the fees players should consider?
The fees and taxes that are charged for ecoPayz's services are divided into four categories that correspond to the services provided – Silver, Gold, Platinum, and VIP. Players are recommended to first check on the terms and the conditions of both ecoPayz's website and the online casino's website in order to avoid any misunderstanding.
When it comes to a bank wire deposit, the fee varies from 0 to 7% of the deposited amount, depending on the country. When a money transfer is made using a credit card, the fee can range from 1.69% to 2.90% of the transfer amount. Bank wire deposits' taxes amount vary between 0% to 7% of the money transfer amount.
For an ecoVirtualcard to be created, the user has to pay a fee of $2.30. Every cash service with this card is subject to a 4% fee, the minimum charge being $0.80. The currency conversion fee is the same for all ecoPayz services – 2.99%.
Deposit
Depositing money in the ecoPayz account is quite easy. Deposits can be made using a variety of methods such as a credit or a debit card, as well as a regular bank transfer. In addition, funds can be transferred between several users' accounts without being charged any fee if they are level Gold users.
The fees applicable when depositing funds into your ecoCard, however, are always 4% regardless of the payment method you have chosen. The minimum fee you will need to pay for cash services is $0.80. At Silver level, players will be required to pay a fee of 1.5% when sending funds to another account. The currency conversion fee of 2.99% is applicable.
Funding Casino Account with EcoPayz
Funding an online casino account with ecoPayz is really easy, with the only problem being the lack of availability. If your casino accepts ecoPayz as a deposit method then you should definitely give it a shot. The registration process is quick and you will benefit from a higher level of security. Naturally, if ecoPayz is not an option, players can use their ecoCard or ecoVirtualcard.
This is usually quite simple because, as we mentioned, they are both essentially Mastercard cards and they function fully as such. Funding your account with ecoCard takes the same amount of time that it does with any other Mastercard which is none at all. Deposits with this method are instant which is one of the reasons why it is a player favorite. The same goes for ecoVirtualcard.
Using these methods to fund your online casino account is very easy and safe. All you need to do is fill in the details of the card and make sure you have enough funds to make a deposit of a satisfactory size to you. That way, your credit and debit cards, as well as your bank account remain untouchable.
The rest is entirely up to the casino you have chosen – the amount you have deposited may be available immediately or might take a few hours to appear. If it is all up to ecoPayz, then your funds will be in your casino balance in mere seconds.
Withdrawing Funds to EcoPayz
Withdrawals using the ecoPayz option are considered to be one of the easiest and safest methods to receive money won at an online casino. Withdrawals can be made from a web-based casino account to the prepaid debit cards provided by ecoPayz. From that point on you can withdraw your funds to your bank account, or through an ATM with your ecoCard, or you can use them online.
There is a fee for bank account withdrawals from an ecoAccount and only verified users can actually withdraw. The exact fee depends on your region and bank but it is usually between $6.94 and $11.77. The fee is lower only for VIP users. The withdrawal limits are the same for all levels, the maximum daily withdrawal being $588,266.52.
Since ecoCard is actually a Mastercard, wherever the option to withdraw using Mastercard is available, you will be able to use it. If you decide to withdraw your funds from your ecoCard, they will be subject to a fee of 2% which can be a minimum of $1.50. There are different withdrawal limits set, based on users' account level.
If you are a Silver level user you will be able to make transactions of up to $1,000 and withdrawals of up to $2,000 per day, $5,000 per week, and $15,000 per month. Once you have surpassed that level and moved on to Gold you will be able to make transactions of up to $2,500 and withdrawals that are twice as big as the previously listed ones. All levels above Silver have the same limits.
Security
EcoPayz is considered one of the safest payment methods used in online casinos, as the website of the service currently uses the latest technology when it comes to protecting its customers' personal and banking details.
Both a fast and secure way of transferring money is provided by ecoPayz. The servers that hold any private details are separated from each other, and special firewalls are used in order to provide maximum safety.
The level of security is high enough to compete with any other PCI and DSS compliant business. PCI stands for Payment Card Industry and DSS stands for Data Security Standards and both are the two most important factors for an e-commerce business. Of course, the sole fact that EcoPayz is powered by PSI-Pay Limited, which is a principal member of Mastercard speaks for itself.
Additionally, the 2-Step Verification that this company offers, makes it almost impossible for anyone to make unauthorized payments. That person would need to have stolen the card, your phone, your passwords, and your card details, so this is a perfect addition to an online casino deposit method.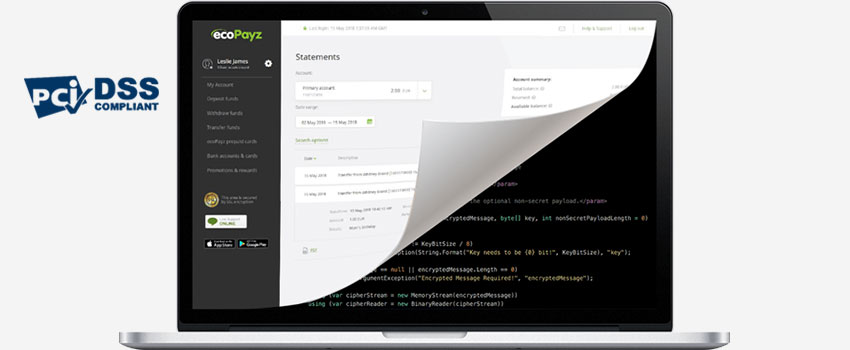 EcoPayz on Mobile
EcoPayz has applications for both Android and iOS phones, however, both of them have received mostly poor reviews the majority of which are concerning the app's lack of a 'remember me' feature. That is not necessarily a negative, though, as it adds to the security of this payment method. An alternative is the website of ecoPayz itself which is available across all platforms.
The website works perfectly on mobile and is fully adaptive thanks to a recent upgrade. The applications have been getting updates as well because the team of ecoPayz strives to provide its users with the best experience possible. EcoPayz is determined to do everything in its power to cater to the needs of its users and keep up with the times.
Both the applications and website give players the ability to check on their account's balance wherever and whenever they want. You can make the same transactions on both and they have the same features, so there is essentially no great difference between them, so you get to pick the option that is more suitable for you.
What casino games can you play with ecoPayz?
Slots: 3 reel slots, 5 line slots, video slot machines, bonus slots, jackpot slots
Video Poker: Jacks or Better, Tens or Better, Deuces Wild, Aces and Faces
Roulette: French Roulette, American Roulette, European Roulette, Live Roulette
Blackjack: European Blackjack, Switch Blackjack, Spanish Blackjack, Live Blackjack
More table games: Craps, Baccarat, Casino Hold'em, Caribbean Poker