Mobile devices have become an integral part of our lives. When you look around, you will inevitably see someone scrolling through social media, playing a game, or making purchases on the go. Mobile technology has extended its impact to gambling as well, with an increasing number of gamblers switching to mobile casinos. One's physical location has become irrelevant as they can carry their favorite casino games in their pocket wherever they go.
Understandably, mobile billing is gaining more and more transaction in the virtual gambling community since it enables players to make quick casino deposits and have the charges added directly to their monthly cellular bill.
One popular payment service based on mobile billing is Payforit. It allows for secure, anonymous, and convenient deposits by using nothing else but your smartphone and your mobile plan. It eliminates the need of providing any personal or banking information and addresses the growing concern about our privacy. Casino Deposit offers you a comprehensive breakdown of how Payforit works for the purposes of online casino gambling, its availability, fees, limits, advantages, and disadvantages.
How It Works?
Payforit is a UK-based payment services company that enables mobile users to pay online merchants, purchase applications and games, and make donations to various charities. This is a mobile-billing payment service which adds the charges to users' phone bills. You can use Payforit even if you are not on a contract with a mobile network operator.
Payments with Payforit are possible as long as you have a monthly plan or a prepaid mobile card with a sufficient credit. Payforit's system detects your phone number and recognizes whether you are paying over a contract or a prepaid mobile plan. All you need to conduct a payment is a phone connected to the internet and a valid mobile number. Of course, your mobile network carrier should also be affiliated with Payforit in order for the money transfer to take place.
The type of internet connection your smartphone uses is irrelevant – you can process a casino deposit via a WiFi or a 4G connection, but 3G will also do the trick. The procedure is a bit different, though. When you initiate a payment via 3G or 4G, Payforit will automatically recognize the phone number through the system of the supported mobile network carrier.
There is no need to enter anything in this instance – you simply need to confirm the transfer and the funds will be either deducted from your available prepaid credit or will be added to your monthly mobile phone bill. A receipt will be text-messaged as a confirmation for the payment.
Understandably, Payforit will not be able to automatically detect your mobile number when your smartphone is connected to a WiFi network. You will be required to manually enter your mobile phone number and fill in the amount of money you want to transfer. The Payforit system will then send you a text message containing a unique code and a link.
Respectively, there are two ways for you to authenticate the payment. You can either click the link to confirm the transfer and verify your mobile phone number or use the 4-digit code they sent you. Once the payment has been confirmed successfully, the merchant or the online casino will be credited with the money instantly.
It is clear as day this poses as a very safe, hassle-free, and time-efficient method to deposit funds into your casino account as it spares you the worries about potentially exposing your personal or financial information at risk. No personal or banking details are required to initiate and complete the transactions. The only information needed for the payment's successful completion is your phone number.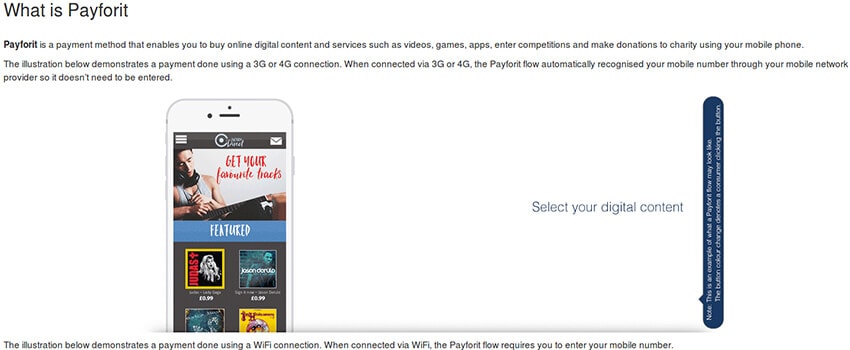 Payforit's Availability
Payforit is a mobile billing service developed exclusively for online purchasers and casino players residing in the United Kingdom. It is implemented by all mobile network operators (MNO) functioning on the territory of the country, including all the big players on the UK mobile market like EE (previously known as Everything Everywhere), O2, Vodafone, Three, and Tesco Mobile.
The mobile payment platform has also established partnerships with some major mobile virtual network operators (MVNO) that lack their own wireless network infrastructures but still service customers via business agreements with some of the above-mentioned network carriers. Some of the most popular virtual network operators supported by Payforit include Virgin Mobile, Lebara, and Tesco Mobile. All transfers are conducted in the local GBP currency.
Funding Your Casino Account with Payforit
Payforit has won many UK casino players over since it offers them a greater simplicity, time-efficiency, and an unprecedented level of anonymity. There is no need to memorize or enter any long bank-account or credit-card numbers, sign up with e-wallet accounts or undergo annoying verifications.
Topping up your casino balance is easy as pie with Payforit but naturally, you first need to find an online gambling platform that supports deposits by phone. Once you have registered at a casino accepting this payment method, you can complete your first Payforit deposit in several simple steps.
First, you must access your online casino account with your log-in details and then open its banking page where you will be able to see all available payment methods. You need to select "Pay by Phone" from the cashier menu to open the supported mobile-billing payment options. Then you click on Payforit to choose it as the banking method of your preference.
The system will recognize your mobile number automatically if you are on a contract with a mobile carrier and use its 3G/4G network. This will be impossible if you connect via WiFi – in this case, you must enter your mobile number manually and then confirm the sum you intend to transfer to your casino balance.
The Payforit system will text message you about your pending payment if you have initiated it via a WiFi network. The message will contain a link and a 4-digit code you need to use for confirmation. The payment will go through right away after you confirm it by entering the code in the provided field.
You will also receive a text-message receipt as a verification for the successful transfer. A different text-message notification is used if your deposit fails to go through, in which case you can repeat the above procedure again. It is precisely this level of usage simplicity that makes Payforit a viable option for first-time casino depositors.
Can Payforit be Used for Casino Withdrawals?
One commonly spread obstacle Payforit depositors are facing has to do with withdrawing their earnings from their casino balance. It makes all the sense in the world your gambling operator will be unable to return your winning via the same medium. Being a mobile-billing-based payment solution, Payforit cannot be used for reverse payments.
Players who use the method may be able to receive refunds on their purchases to online merchants but unfortunately, will have to go through the hassles resulting from Payforit's incapability of carrying out withdrawals.
If your betting operator automatically returns withdrawals to the same payment solution you have used when depositing, they will most likely pay out your profits via a bank transfer or a check. Other readily available withdrawal alternatives include digital wallets and online banking platforms. The latter are a great option for Payforit depositors who insist on keeping their information private when withdrawing.
Payforit Fees and Payment Limits
Affordability is one of the biggest strengths of Payforit. The method is not associated with any additional costs for registration and does not entail maintenance or processing fees, either. Online casino deposits are carried out at no extra cost as the Payforit platform operates simply as a mediator between payers and payees.
Some individual merchants may charge you additionally for purchasing or subscribing to their services by using the so-called Premium Rate SMS (or PR SMS). However, this is not the case where most gambling operators are concerned. The majority of online casinos would gladly process Payforit deposits at no cost for the players.
Some online merchants and service providers have adopted the practice of offering discounts and other promotions via text messages after the successful completion of a mobile-billing purchase from them. This may result in undesired SMS spam for you. You can put an end to this by sending back a text containing the STOP command (in capitals) to the shortcode the merchant has originally messaged you from. This text is either free or charged at the standard messaging rates of your mobile carrier.
The method allows for rather small sums to be deposited per transaction. The precise limits depend on the mobile network carrier whose services you are using. For example, gamblers who use Vodafone (which ranked third on the UK mobile market in 2017, with a share of 21%) will be able to deposit no more than £30 per single transaction, £50 per day, and £240 per month. We recommend you check with your carrier to request further details on the daily and monthly restrictions they impose on their mobile billing services.
Payforit on Mobile
Payforit is reserved for players who use carrier billing to make deposits on the go. In fact, this is one of the few casino payment methods that work exclusively on mobile and are impossible to use on desktop computers or laptops. You can initiate a deposit only if you use a portable device with a valid UK mobile number.
It does not matter what brand your phone is or what operating system powers it as long as you are not using an ancient mobile device that does not support 3G/4G or WiFi. Other than that, any smartphone will do if it has some sort of internet connection. Payforit is compatible with all versions of iOS and Android because its system relies on your mobile carrier to process payments instead of using your phone's operating system.
Payforit and Security
More and more players are starting to look around for safer alternatives to standard online banking and credit/debit cards. Sure, e-wallets like PayPal, Skrill, and Neteller are an option for players who are reluctant to reveal their banking information but we should not forget these wallets are still indirectly connected either to your card or to a bank account. After all, the wallet's balance must be topped up one way or another.
In contrast, Payforit is not linked to any bank account and the only information you provide when depositing is your mobile phone number. Various safeguards are in place to protect depositors but above all, there is the 4-digit confirmation code WiFi users must text back to authenticate the payment. The confirmation must be carried out via the same mobile number you have used to initiate the deposit.
Even if somebody steals your phone, they will not gain access to your banking information and will be able to charge a relatively small amount to your mobile bill within the same day. We believe one day is sufficient for you to report your phone was stolen and to have your SIM card blocked until the issue is resolved. You can deposit safely and anonymously with Payforit having the confidence you are out of harm's way.
What Casino Games Can You Play with Payforit?
Payforit online casinos lack no diversity of exciting games you can play on your smartphone. We have picked the most popular titles from each category below:
Online Slots – 3-reel slots, 5-reel video slots, slots both free spins and bonus games, 3D and progressive slots
Video Poker – Deuces Wild, Tens or Better, Jacks or Better, Double Bonus Poker, All American Poker, Joker Poker, Aces and Faces, 2 Ways Royal, and Aces and Eights
Blackjack – Single-Deck Blackjack, Surrender, Double Exposure, Blackjack Switch, Pontoon, All Bets Blackjack, Atlantic City Blackjack, Vegas Downtown Blackjack, Perfect Pairs, Vegas Strip Blackjack, Super Fun 21, Duel Blackjack, Spanish 21 and more
Roulette – American, European, and French Roulette, Mini Roulette, Age of the Gods Progressive Roulette, Multi-Wheel Roulette, and 101 Roulette
Live Games – Immersive Roulette, Speed Roulette, Ultimate Texas Hold'em, Bet-Behind Blackjack, Blackjack Party, Lightning Roulette, Baccarat Squeeze, Three-Card Poker, Live Casino Hold'em, and Dream Catcher
Other Available Games – bingo, keno, craps, baccarat, scratch cards, casino hold'em poker, Caribbean Stud, Sic Bo, and Pai Gow
Advantages of Payforit
If you are still sticking with us, you have probably noticed that anonymity and security are the two biggest perks resulting from using Payforit as a casino deposit method. The only information needed to fund your gambling account is your mobile number because Payforit is nothing but an intermediary between customers and sellers (or in this case, between players and their online casinos). This eliminates the risks of players becoming victims of identity thefts and other frauds.
Another level of security is added by the confirmation codes and messages involved in the money transfer. You and you alone can initiate and confirm the payment on your personal phone. Even in the event of your smartphone getting stolen, the thief will not be able to spend more than the daily allowed billing limit before you contact the authorities to report the theft.
Some people are fans of online gambling but either do not have bank accounts or cannot have credit cards issued to their name due to poor credit history. Payforit is the perfect option for unbanked casino players since it does not require them to hold bank accounts or own cards like some other payment methods do. The method is easy on one's budget since it does not involve extra charges on behalf of casino operators.
On top of that, it can be a helpful budgeting tool due to its low payment limits. Those who use Payforit will never have to worry about slipping into the red, running up huge debts, or gambling with money they cannot afford to lose emotionally or financially. Finally, the checkout with this method is incredibly simplified and is completed in several steps only, which may be beneficial to players who lack any previous experience with borderless payments.
Disadvantages of Payforit
Payforit may have its positives but these are accompanied by several disadvantages we simply cannot overlook. The above-mentioned low limits can be viewed as a double-edged sword. They may work to the advantage of budget-conscious players but will put off high rollers for whom depositing only a couple of hundred pounds per month is an absurd notion.
Another downside of this method is that it comes with a rather limited availability. Some of the supported mobile carriers like Vodafone, for example, offer their services globally in Asia, Australia, Europe, and Africa. However, this is irrelevant in this case since Payforit's website explicitly states that this mobile billing service is available exclusively to UK-based customers of the supported mobile network carriers. Respectively, the payments will be automatically processed in the local currency. If GBP is not supported by your preferred casino, a portion of your payment may go toward currency conversion.
The very nature of this method does not allow it to enable withdrawals. This translates into a bunch of hassles when the time arrives for you to cash out your casino earnings as you will have no other option but to consider an alternative. What is even worse, if you are gambling at one of those casinos that insist on using the same method for deposits and withdrawals, you will most likely receive your money at a snail's pace via a bank transfer or a check.